FILLERS
Over time, every vagina tends to lose its strength, thickness and elasticity. Hyaluronic acid-based dermal fillers are the new 'Beauty Craze' used for vaginal rejuvenation. Aimed to restore the supple plumpness of youth, regardless of your age, this treatment will guarantee you a better intimate life leaving you happier and more confident about your body.
A New Beauty `Craze` for a Better Intimate Life
Ageing is quite natural! However, there are age-related changes that happen in our outward appearance that we would like to slow down or even reverse if possible. Affecting every nook and cranny of the body, you may feel the brunt of ageing on your face first, however other areas of your body are also affected – including your vagina which ages in much the same way as your skin.
As estrogen levels gradually drop with age, the vagina tends to lose its strength, thickness and elasticity. Its walls loosen and sag, taking on a droopy, dry, and wrinkled appearance. Moreover, the labia majora (the outermost lips surrounding the vaginal opening) become thin and lose their plump, youthful pinkish form. In addition to the loss of attractiveness, the lack of lubrication causes the ageing vagina to be a source of great discomfort for women, with frequent itching and pain during intimacy.
But it is not just ageing that claims its toll. The stress of childbirth plays a role as well because the vaginal walls are exposed to some significant pressure. These changes can markedly impact women`s intimate life, with intimacy becoming less enjoyable or even painful and undesirable.
With the number of women seeking genital enhancement treatments steadily increasing, the aesthetic gynecological field of vaginal rejuvenation is rapidly gaining popularity across the globe because it offers advanced and effective solutions to complaints that most women would have been too reluctant to discuss openly a few years ago.
One popular and effective non-surgical method of vaginal rejuvenation is the use of vaginal fillers containing Hyaluronic acid gel to reverse the changes in a woman's genitalia that are induced by childbirth, hormonal changes and ageing. Commonly and successfully used to rejuvenate facial skin for many years, Hyaluronic acid-based vaginal fillers offer a revolutionary solution for the revitalization of feminine intimate areas, making it feel younger and vibrant.
Why do you need the treatment?
Hyaluronic Acid is a naturally occurring biopolymer with childbirth ability to bind water and make the human tissues moist and smooth. It increases tissue hydration, elasticity and plumpness. As we get older, the production of Hyaluronic acid decreases and the cells lose the ability to hold water. Accordingly, the tissues lose their elasticity, smooth and plump appearance.
Hyaluronic acid-based vaginal fillers volumize the labia majora and grant it a highly toned and symmetrical appearance. They help to restore vaginal tone and elasticity, improve sensitivity, and reduce vaginal dryness.
Moreover, the extra volume in the vagina helps support the urethra, thus reducing those annoying, and quite embarrassing symptoms of stress urinary incontinence (urinary leakage when you sneeze, cough or laugh).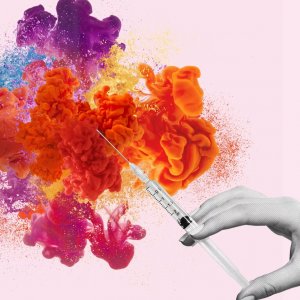 How is this done?
The Hyaluronic acid-based vaginal fillers are typically injected through an ultra-fine needle into the internal front wall of the vagina and the labia majora. Prior to the procedure, a local anesthetic is applied to the target areas to ensure that you are kept comfortable and relaxed throughout the procedure.
The procedure usually takes less than 30 minutes. There is no recovery time needed, and you will be able to return to your day-to-day activities right away.
Mild swelling or discomfort may be present in the treatment area for the first few days which can be easily controlled by a prescribed oral pain killer. To allow the injected substance time to settle, it is recommended to avoid intimacy for one week.
Though it can vary from one woman to the other, results can last anywhere between 12 – 18 months. Being made of natural substances, Hyaluronic acid-based vaginal fillers are gradually absorbed by the body over time. Thus, additional injections may be required to maintain optimal results, depending on your individual needs.
Vaginal rejuvenation with Hyaluronic acid-based vaginal fillers is fast becoming a popular treatment that can restore the supple plumpness of youth regardless of your age. With a more youthful vagina, you are going to feel happier and more confident about your body.
Non-surgical vaginal rejuvenation is just that. You do not need to resort to the surgeon`s scalpel to get a better-looking, vibrant and younger vagina.